Shinobi is well today, thanks to kind hearted people like you. But that wasn't the case when this one-year old Akita cross was brought into our shelter…

Shinobi was found wandering on Gawler River Road - he was covered in dirt and his fur was badly matted. We don't know how long Shinobi was on streets, but judging by the state of his coat, it could have been weeks…
When he first arrived at our shelter Shinobi was gentle, but very shy – especially when the team tried to clip his matted fur. His coat was in such terrible condition that it was causing him pain and making it impossible to groom him. The team realised that Shinobi would need to be under anaesthetic in order to clip his fur. They also noticed that Shinobi was oozing pus from his front leg, so he was rushed to see Dr Naia, one of our vet surgeons at AWL. Straightaway Dr Naia saw that matted fur wasn't the only issue plaguing Shinobi. She immediately anaesthetised him to investigate his leg and complete a full groom.

When Shinobi was put under anaesthetic, Dr Naia was shocked by what she found...
This poor dog was covered in painful and infected sores, caused by grass seeds embedded deep in his skin. Shinobi's coat was so thick and matted, his condition was far worse than we could see before his fur was clipped.

It took more than two hours to clip Shinobi's fur and remove all of the visible grass seeds.
Dr Naia said "When we started to clip his fur, was saw he was absolutely covered in grass seeds – everywhere we clipped, we found more grass seeds! Many of these grass seeds had penetrated his skin, causing painful and infected abscesses. There were so many sores that we couldn't even count them all."

It took Dr Naia and two vet nurses working non-stop for more than two hours to remove grass seeds from Shinobi's skin and coat!
"After more than two hours we had removed all of the grass seeds that were visible, but we knew there were likely more migrating through his body – he would need regular visits with me and potentially more surgeries", said Dr Naia.
Without vet treatment, Shinobi would have been in constant pain with infected sores, and more worryingly, at risk of developing other serious health issues. If left untreated, grass seeds can cause severe internal damage - travelling into the dogs' lungs or spinal cord, which can be potentially fatal.
The very next day, Dr Naia visited Shinobi to check on his progress; "I couldn't stop thinking about him that night - I was quite upset after the first procedure, thinking about how much he had suffered and how good a dog he was despite it all. When I visited him the next day he was already like a different dog and so happy!"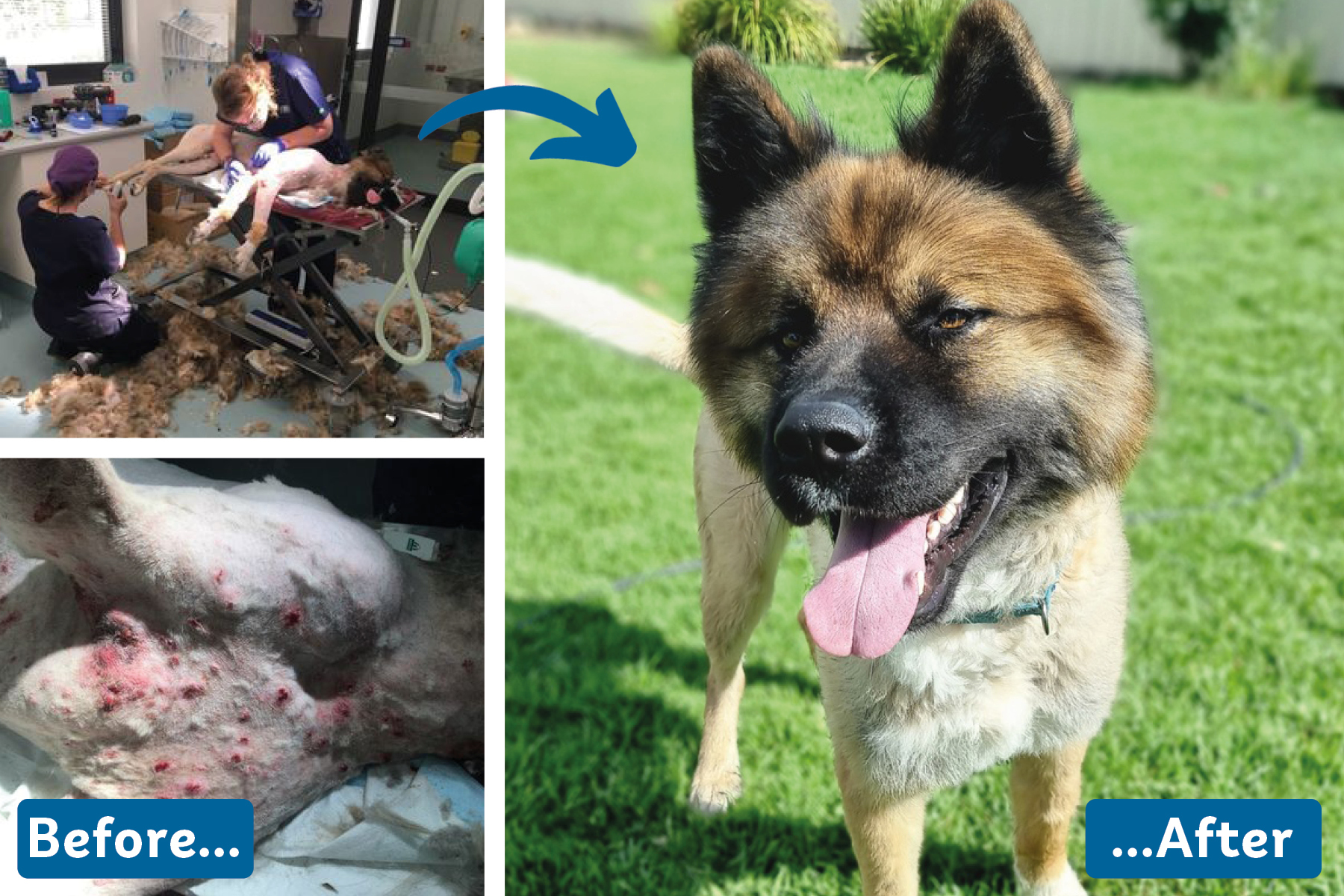 Shinobi was put on a course of antibiotics to help heal his infected sores, and monitored very closely by the vet team. After weeks of treatment and 12 more veterinary consultations, his infections were healing and he was finally on the road to recovery.
If it wasn't for big-hearted animal lovers, Shinobi would still be suffering with infected sores, and potentially life-threatening grass seeds stuck in his skin…

Right now, we have more than 500 stray, lost and abandoned animals in our care. Like Shinobi, many of them have been on the streets and need vet care before we can find them a loving new family.

Vet treatment, medication and recovery take a great deal of time and resources, but we want to make sure that every dog gets the care and treatment they need, no matter how long it takes.
AWL gets no government funding, so we rely on support from animal lovers in the community to help all of the cats and dogs that arrive at our shelter. We desperately need your help to provide food, shelter, vet care and love for the hundreds of animals that will come into our shelter this winter.
Will you make a kind donation to help dogs in need, just like Shinobi?