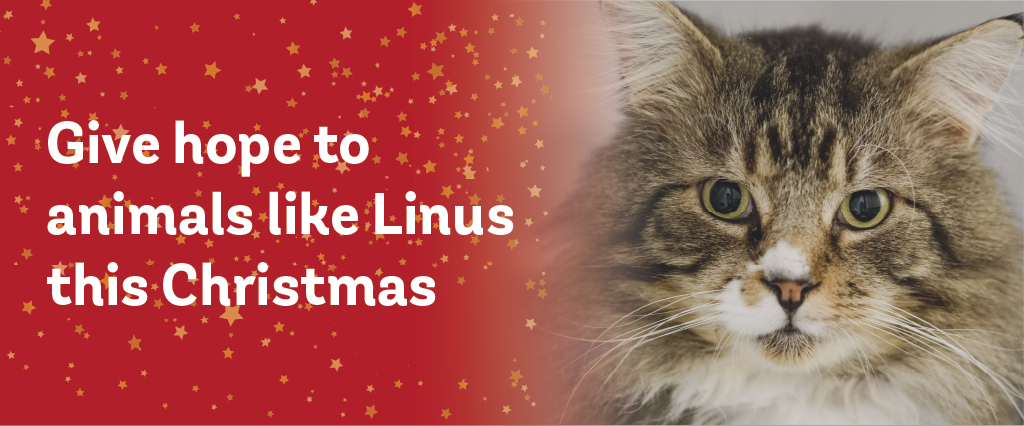 Christmas is one of the busiest times of year at our shelter. Right now, we are bursting at the seams with so many animals who need shelter, food and vet care while they're waiting to find their forever home. Animals just like Linus…

Linus, a sweet 5-year-old cat, was found wandering around Waterloo Corner. A kind member of the public noticed Linus had been roaming the streets during the cold winter. They had not been able to find an owner, so they brought him to our shelter. Hungry and frightened, this cat was in desperate need of our help.
Linus' health check confirmed that he hadn't been looked after for a very long time. All of his incisor teeth were missing, and his canine teeth were very worn and chipped. He also had numerous wounds and scabs around his neck, and a lump on his left side! This poor boy had been through such a rough time, but we were determined to help him. Linus was booked in for surgery to remove the lump on his side, but during the surgery Dr Michelle saw something very unexpected…

Linus had been shot with an airgun!
The lump on his side was actually a small metal pellet from an airgun! Dr Michelle said "I was shocked! When I first felt the lump on Linus' back, I thought that it could be a small abscess from a cat fight, given he also had some healing wounds on his skin…to my surprise, it was an airgun pellet! I immediately decided to take full body x-ray images to see if Linus was shot more than once."
It was only after Dr Michelle took x-rays that the full extent of Linus' injuries were revealed…Three more pellets were found across Linus' body – one of which had completely fractured his right humerus!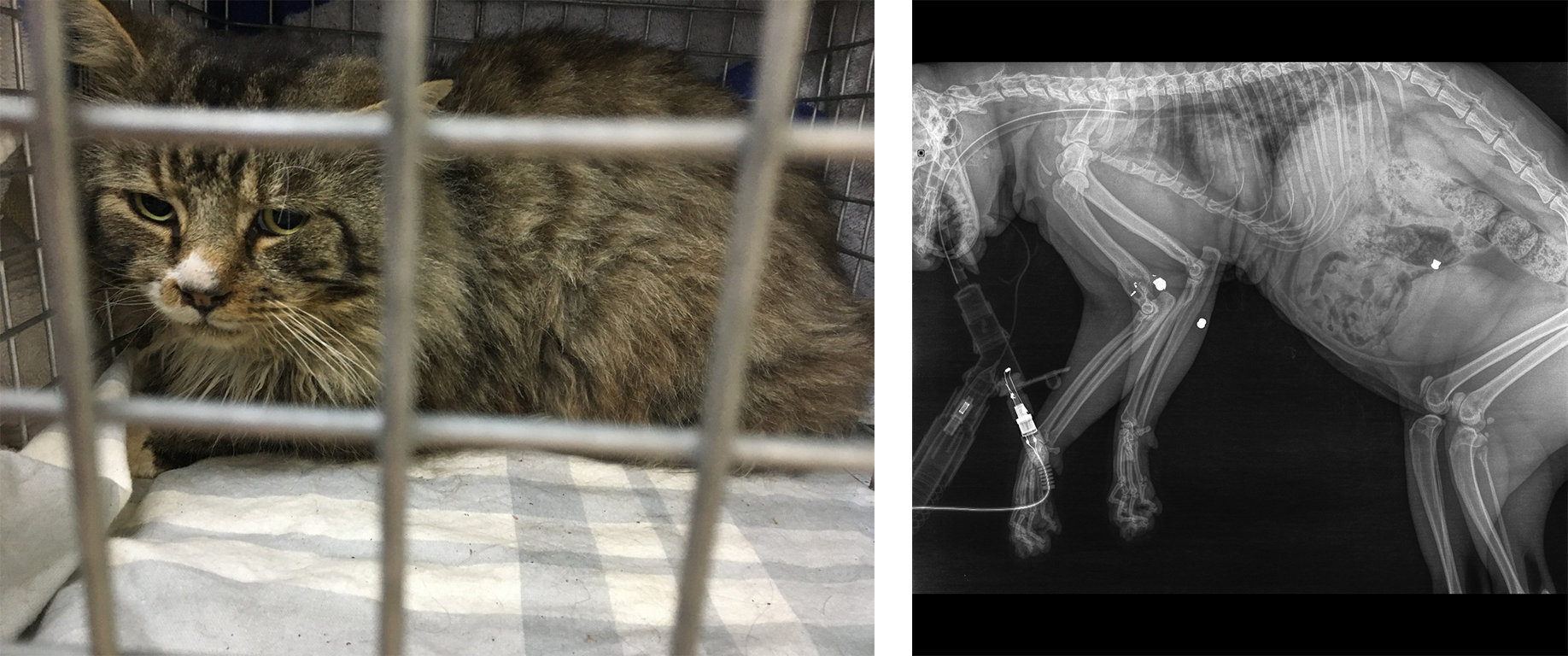 Dr Michelle found four lead pellets lodged in Linus' body - this poor cat would've been in so much pain.
Based on how his bone was healing, poor Linus had been suffering with these injuries for at least 6 weeks. Dr Michelle got to work, and managed to remove all but one of the pellets - the last one had broken into small fragments and lodged close to Linus' elbow joint. "It was heart-breaking to find more pellets. I can't imagine how painful this must have been – it's remarkable that he is still able to walk on that leg", said Dr Michelle.

The next day, Dr Michelle visited Linus to check on his progress; "When I visited him the next day, he was doing so well! Despite the trauma that he'd experienced, he was such a friendly and sociable cat. The vet nurses told me he was so chatty and smoochy."

Without vet treatment, Linus would have been at risk of developing infections or other serious health issues. If left untreated, there is always the concern that the pellets could cause lameness or other serious medical issues. But Linus isn't out of the woods yet…
The last pellet is still lodged in his elbow joint. Surgically removing it could cause more damage. But we're concerned that the air pellet fragments, which are made of lead, may leach out and cause Linus to have lead poisoning! This poor cat may need undergo another surgery to save his life.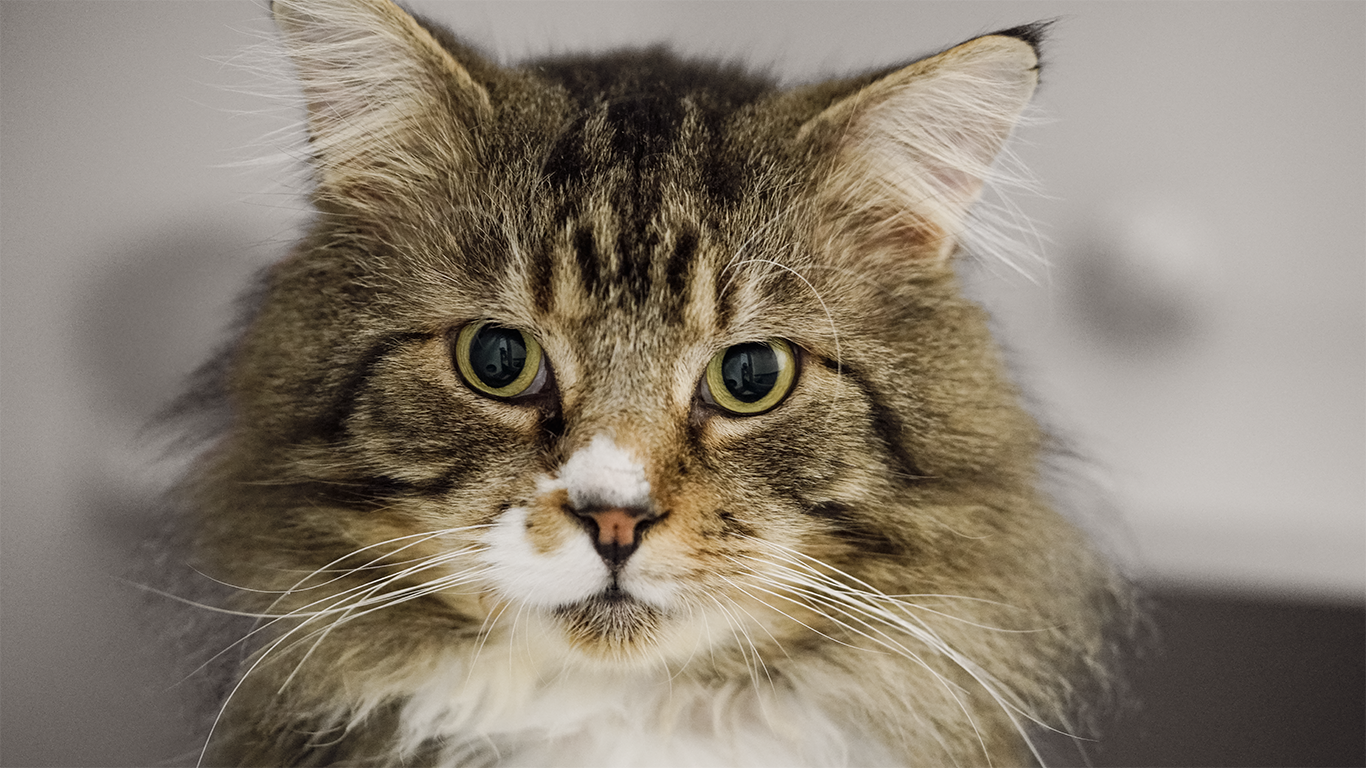 Linus may need another surgery if his test results show he's at risk of lead poisoning.
If it wasn't for big-hearted animal lovers, Linus would have been at risk of developing infections or other serious health issues…

This year we've seen more than 100 stray, lost and abandoned animals come into our care each week. Like Linus, many of them have had a rough past – we don't know what's happened to them, but we do know they deserve a second chance at a happy new life.

Extensive vet treatment can take a great deal of time and resources, but I want to make sure that every animal gets the care and treatment they need, no matter how long it takes.
AWL gets no government funding, so we rely on support from animal lovers in the community to help all of the cats and dogs that arrive at our shelter. We desperately need your help to provide food, shelter, vet care and love for the hundreds of animals that will come into our shelter over the Christmas period.
A kind donation from you today will mean so much to the animals in our care - your generosity will give cats like Linus hope and a bright future full of happiness.

Will you make a kind donation to help animals in need, just like Linus?