What are fleas?
Fleas are one of the most common parasites your pet can come up against. They're usually transferred from another animal, picked up in your garden or home, or transferred via our clothes.
Cat fleas and dog fleas are, as their name suggests, two different species of flea, however they don't discriminate between which animals they infect. Cat fleas can infect dogs and vice versa.
A lot of people aren't aware that fleas can live on surfaces other than their pets, but fleas, their eggs, pupae and larvae like to live in warm, humid places, like couches, carpets and your pet's bedding.
At all stages of its lifecycle, a flea can live in upholstery, carpets and your pet's bedding, and the adult flea will stay there until they get the opportunity to jump onto your pet.
Some fleas can also jump up to 100 times their body length, so your pet doesn't even have to touch an infected animal or piece of material to become infected themselves.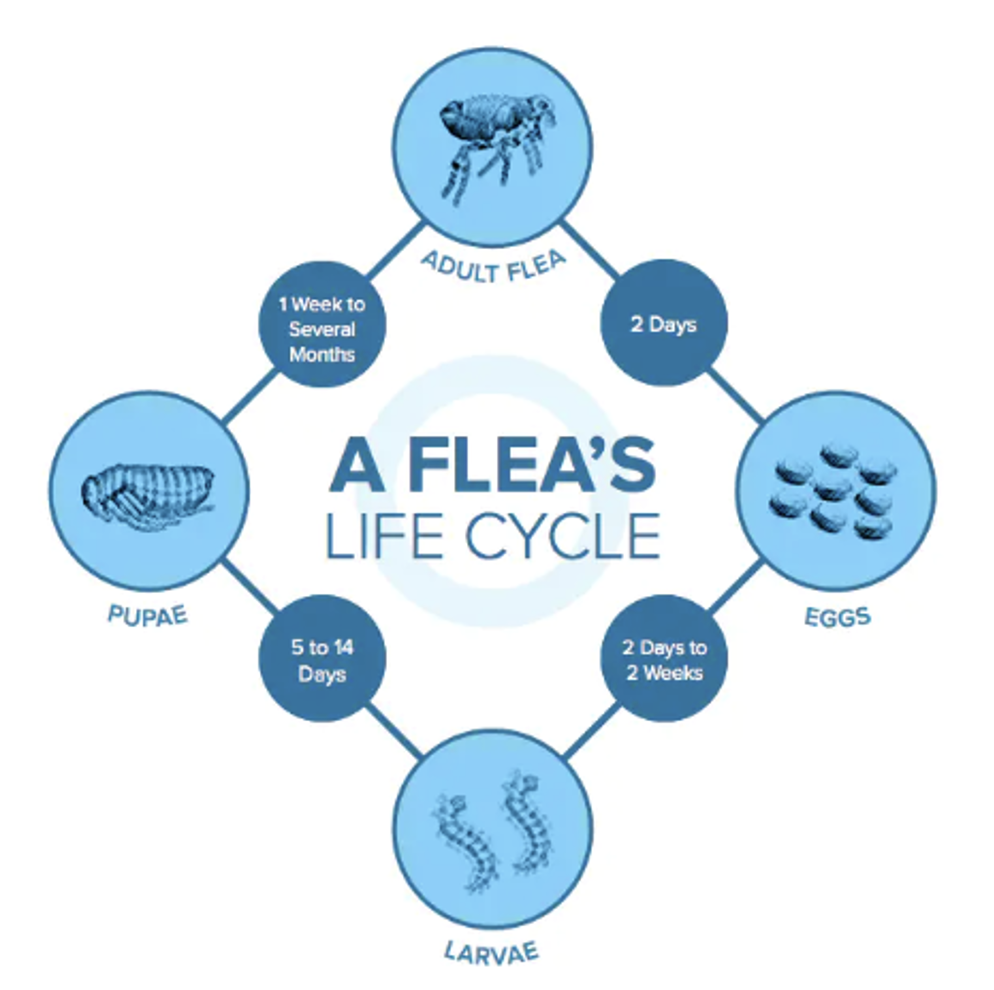 How do fleas affect my pet?
Having fleas is a very uncomfortable experience for your pet. You may notice them persistently scratching themselves, and they suffer from hair loss and skin irritation.
Serious cases of fleas in young animals such as puppies and kittens can result in excessive blood loss, which can cause anaemia.
There are certain signs to look out for that will help you tell if your pet has a flea infestation. Aside from the persistent scratching, hair loss and skin irritation, they may also be lethargic, their gums might be pale due to the anaemia and they might be excessively grooming themselves.
You may also notice black flea dirt in their coat, scab-like bumps on their skin, and live fleas actually crawling in their fur.
Fleas love to live near the neck, lower back, the back of the hind legs and the base of the tail, so keep an eye on these areas if you're checking for live fleas.
Some animals are also allergic to fleas – in this case, just a few flea bites can cause intense itchiness for up to three weeks. If you think your pet may have a flea allergy, you should speak with your vet.
There is a way to check to see if the dirt in your pet's coat is flea dirt. Moisten a white tissue with water, then groom your pet with a fine-tooth comb and place some of the dirt on the moist tissue. Gently slide the dirt across the tissue – if it leaves red blood marks, it is most likely flea dirt.
Keep in mind that fleas can also transmit tapeworm to your pet, so you should consult with your vet if you think your pet has fleas. This can occur because flea larvae can become infected with tapeworm larvae. Your pet can then accidentally ingest the flea while grooming itself.
The tapeworm larva then hatches into an adult tapeworm. This is why, if a pet has fleas, we recommend treating for tapeworm as well, just in case.
How to prevent your pet from getting fleas
Providing your pet with regular preventative treatment is the best way to ensure they don't get fleas.
Preventative treatment can include spot-on products that you put on the back of their neck so they can't lick it off, or a tablet or chew. These products work by either killing the flea, sterilising the flea, or breaking its life cycle – again, you should speak to your vet about the best product for you and your pet.
You can get a range of products over the counter from pet stores, however we recommend speaking with your vet first to ensure you get the right products for your animals and household.
When applying the product that your vet has recommended, take care to apply the right dose to the right species. For example, flea treatments for dogs are different than flea treatments for cats, and in some cases, these products can be toxic if used on animals they are not meant for.
You should also regularly groom your pets, as it will help you spot the fleas if your pet does become infested. Grooming won't necessarily prevent your pet from becoming infected, but it will help you spot the infestation early – it's also a great way to bond with your pet.
You should treat your home and garden for fleas as well, as 95% of flea eggs and larvae live in the environment rather than on your pet.
Fleas can live without a host for many months in your home, so it's a good idea to regularly vacuum and wash your pet's bedding. You should speak to your vet about the best products to use in your home to prevent fleas, as it will depend on the type of pet you have and their specific needs.
Please be aware that most household treatments for fleas are toxic to animals, so you should remove all animals in the household (including fish) before commencing household treatment.
What to do if your pet does have fleas
If your pet does have fleas, you should consult with your vet about which is the best flea treatment for your specific pet.
Once the fleas have been dealt with, make sure you follow the preventative methods in the previous section to ensure your home and garden are free of fleas. This will help to ensure your pet stays flea-free in the future.
Are you protecting your pet's health? To find out more, click the button below!