Imagine coming home to find out that your pet has gone missing. That instant sinking feeling in your gut while you call their name, frantically running around the house and yard trying to find them, while slowly coming to the eventual realisation that they're not there.

Every pet owner has had that sickening scenario play out in their head, and many have experienced it for real.
One of those people was lucky enough to recently be reunited with their lost pet. What's even more amazing, is that her cat was missing for a whole year before being found!
Sharmaine had lost hope of ever finding her beloved cat Phil, until she received a call from Animal Welfare League to let her know he had been found! Check out Sharmaine and Phil's heart-warming story below.
Phil is a real-life example of why microchipping your pets is so important
Phil was brought to AWL as a stray after a concerned member of public saw him roaming the streets. During his vet exam, our team were so excited to find that Phil had a microchip.
Animal Welfare League Intake Manager Natasha Marginis said that finding a microchip in a stray cat is often a rare occurrence.
"Sadly, only a very small number of cats are microchipped so it's always exciting when one is found, because it gives us hope of reuniting these lost cats with their families," Natasha said.
The team searched the microchip number and found Phil's record – his owner had filed a lost pet report more than a year ago!
"We immediately called Phil's owner, Sharmaine, to tell her that we found her lost cat," Natasha said.
"She was overjoyed at the thought of seeing Phil again and rushed down to our shelter to collect him."
According to Natasha, Phil recognised Sharmaine immediately and climbed into her arms for a cuddle.
"Sharmaine told us that one of her children had accidentally left a door ajar over a year ago, and Phil had not been seen since," Natasha said.
"It's just one of those things that can easily happen to anyone, which is why it's so important to make sure your pets are registered and microchipped – just in case it does ever happen to you."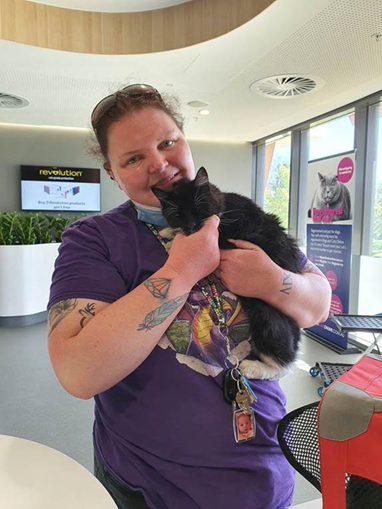 You might be surprised about how far your pets can roam
Many people think that if their pets ever did wander off, they would stay in local neighbourhood. According to Natasha, this isn't always the case.
"Surprisingly, cats can end up wandering quite a long way" she said.
"Studies have shown that cats can wander up to three kilometres from home, so don't underestimate them!"
In Phil's case, that distance was even further.
"Phil was actually found a whopping four kilometres from his home, which is roughly a 45-minute walk for a human," Natasha said.
"If he wasn't microchipped, we may never have been able to reunite him with Sharmaine."
"It's a real feel-good story, but it also highlights just how important it is to register and microchip your pets," she said.
Want to find out more about microchipping?
For more information about the microchipping process, or to find out where you can get your pet microchipped, click the button below. We'll send you an email with everything you need to know!