As a fellow animal lover, we know that you would feel sad about the thought of someone losing their beloved pet. If you've ever been in that situation yourself, you know how stressful and scary it can be.
We also know that if you ever found a lost pet, that you'd go out of your way to try and reunite it with its family.
To help with this, our team has put together a handy guide on what to do if you ever find a lost animal, including the steps you should take to help reunite it with its family.
The most important thing you should keep in mind when approaching any animal is that it might not be friendly.
Being able to read their body language is important. In cats, keep an eye out for a puffy tail, flat ears, an arched back, hissing and spitting.
If you've found a dog, be on the look out for a stiff body, their tail between their legs, flat ears, growling, snarling, snapping or something known as 'whale eye', which is when the whites of their eyes are showing.
If the animal you've found is showing any of the above behaviours, or looks as if it might be sick, keep your distance and contact your local council.
I've found a lost pet cat – what do I do?
Did you know that the 'stray' cat that often travels through your garden or turns up at your house daily for a bite to eat or even has kittens in your yard often has a family of their own.
Many of the 'stray' cats that come into our care have clearly lived in a home before and the owners will soon be missing them terribly. Without identification, less than 1% are reclaimed often because they have been brought many kilometres from their home to AWL.
Cats will always come back to a reliable source of food, so kind animal lovers believing a cat to be a 'stray' and feeding it are actually reinforcing those roaming behaviours.
AWL has seen many cases of cats that have up to five homes that they visit each day to get a feed - and ending up very chubby - with only the true owner knowing that cat is indeed a much-loved member of their family.
Common signs that a cat is just passing through and has a home to return to are:
The cat confidently roams around in the middle of the day
The cat appears clean and healthy
The cat does not search for food
The cat is wearing a collar
Another sign that a cat is owned or has been owned at some point are a desexing tattoo and/or a microchipping tattoo.
Desexing tattoo
If a cat has been desexed it may have a tattoo on the inside of its left ear. The tattoo looks like this.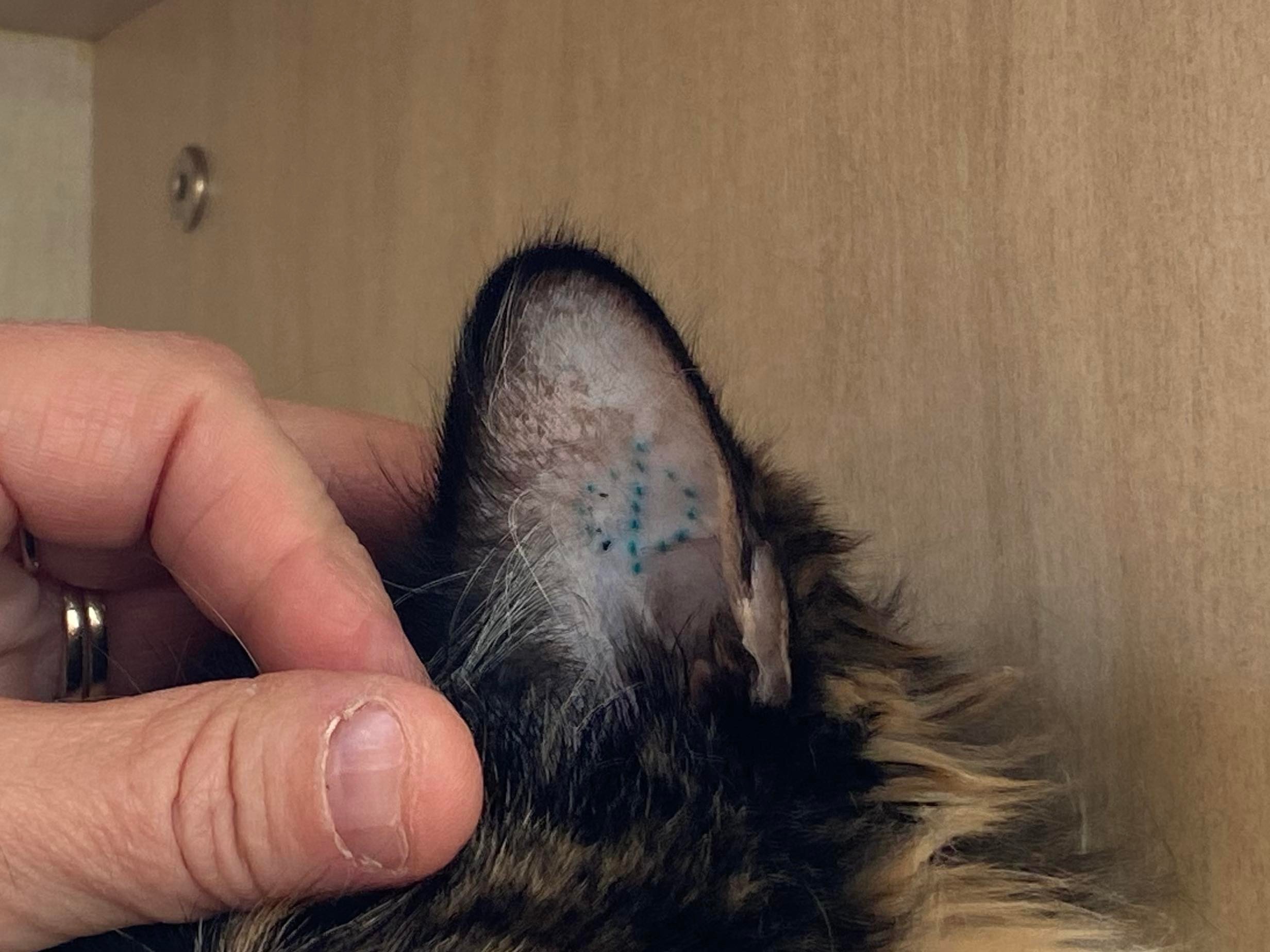 Microchipping tattoo
In South Australia if an animal is microchipped it may have a tattoo on the inside of its right ear. The tattoo looks like this.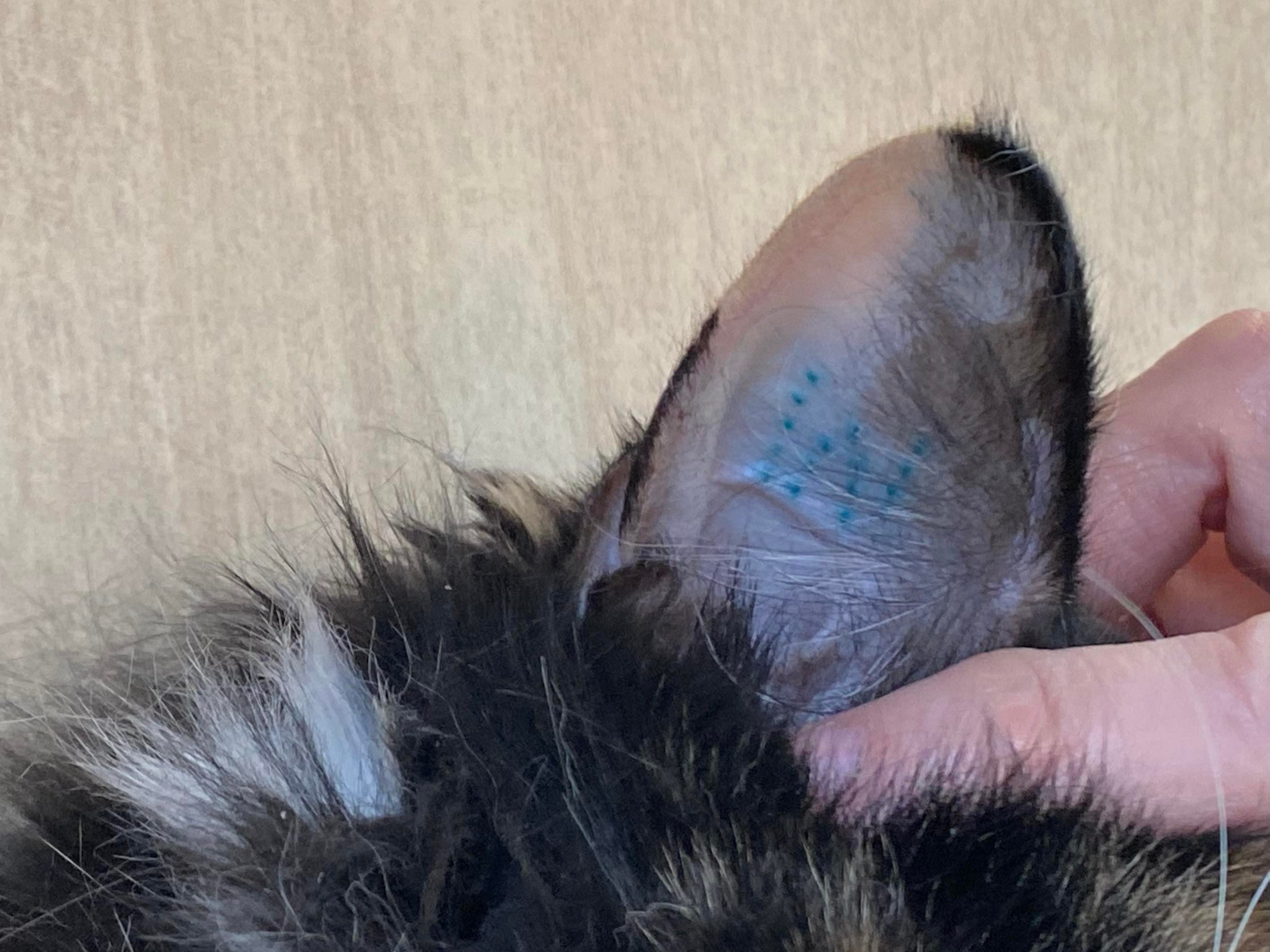 Please note that not all animals that have been desexed or microchipped have a tattoo so if there are no tattoos the cat could still be microchipped and desexed.
What are the first steps to finding out if this cat is really a stray?
Ask the neighbours if their cat is missing or if they recognise the cat
Put up posters around your neighbourhood asking if anyone knows the cat and where they might live
Check lost and found groups for your area
If you don't have any luck with locating an owner with the above methods AWL advises that you use a paper collar on the cat as detailed on our website. If this is unsuccessful, please contact your council or AWL for advice on the next steps.
I've found a lost pet dog – what do I do?
If you have found (or seen) a dog wandering at large, report it immediately to the council in which the dog was found. Do not take it to a vet clinic or animal shelter. The council officers will then arrange to collect the dog and locate the owner. If the dog is wearing a collar and tag, please give these details when you speak to the council as well as breed, colour and approximate size of the dog if it is known.
The council officer will scan the dog for a microchip and search the databases for an owner. The council officer may also know the dog if they have dealt with him/her before.
If your pet is microchipped, it is much more likely that you will be reunited
Really, this topic just highlights how important it is to register and microchip your pets. You also need to ensure you update your details on the microchip if they change.
For more information about how to microchip your pet, click here. If you would like to know more about the microchipping process, click here.
Want to find out more about microchipping?
For more information about the microchipping process, or to find out where you can get your pet microchipped, click the button below. We'll send you an email with everything you need to know!